3D LOTTO RESULT – The Philippine Charity Sweepstakes Office held draws for 3D Lotto today, Friday, and here are the results of the draws:
Recently, the PCSO changed the name of one of its minor lotto games – from Swertres Lotto to 3D Lotto. Meanwhile, the mechanics in playing and as well as the prizes range are still the same. Also, the said lotto game remains to have daily draws.
See UPDATED results for the following draws:
SWERTRES RESULT Today, Monday, December 4, 2023 (updated every 2PM, 5PM and 9PM)
EZ2 RESULT Today, Monday, December 4, 2023 (updated every 2PM, 5PM and 9PM)
Today, (), PCSO is set to hold three(3) draws and here are the 3D Lotto Results:
| Draw Date | Winning Numbers |
| --- | --- |
| 2:00 PM | |
| 5:00 PM | |
| 9:00 PM | |
PCSO lotto draws and the selling of tickets are still suspended in areas under Enhance Community Quarantine (ECQ).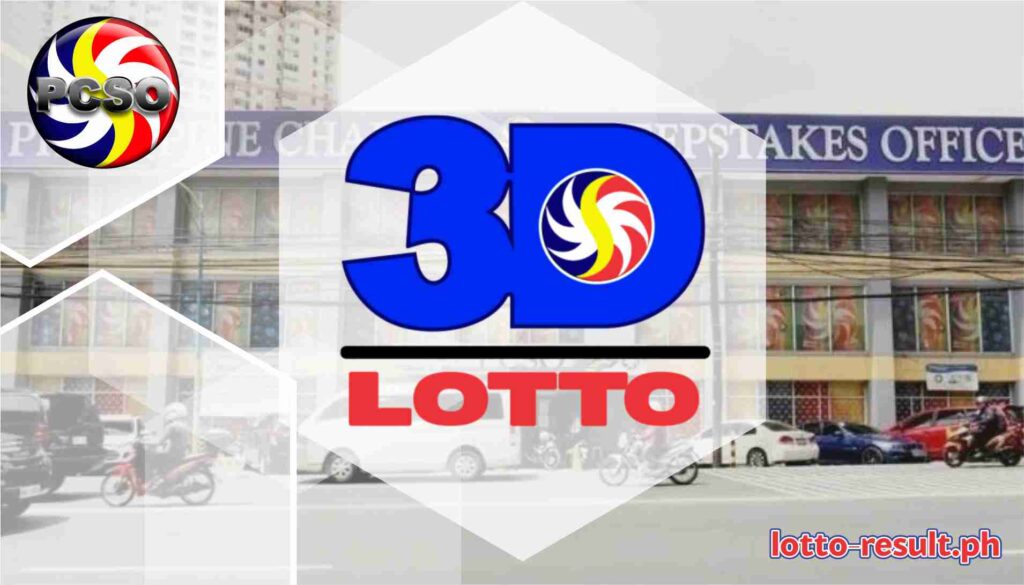 The draws for the 3D Lotto are held every 2pm, 5pm, and 9pm. Aside from the 3D Lotto, there are other lotto game draws that are set to be held today page.
3D Lotto Result Yesterday (, )
Visit main page PCSO Lotto Result and 3D Result History for more PCSO Lotto draw results.
See also
2D Lotto Result
,
4-Digit Lotto Result
,
6/45 Lotto Result
,
6/58 Lotto Result
, and
STL RESULT
pages.
To Play the 3D Lotto…
Select a combination composed of three numbers from 1 to 9. you may also take the lucky pick or the computer combination in case you don't have a combination in mind,
Select the amount of your bet in the amount column.
Choose the numbers of draw you want to bet.
Pay for the total amount.
Wait for your official Lotto ticket.
How to claim your price?
Go to the nearest PCSO Lotto outlet.
Present your winning ticket for verification.
claim your winning price.
How much you can win under the 3D Lotto?
If you will get the winning combination in exact order, you can win as much as Php 4,500.00 under the 3D Lotto game. You can claim it from any authorized PCSO lotto outlet.
Reminders in playing the swertres Lotto:
3D Lotto is held daily every 2PM, 5PM, and 9PM, 7days a week except during holidays.
You must be 18 years old and above to join the PCSO Lotto game. In claiming the winning prize, the same age requirement is needed from the player.
according to PCSO, the lotto prizes which are Php. 10,000.00 above are subject to tax in line with the implementation of the train Law.
Do not iron, fold, soak in water, or write anything in your lotto ticket except the portion designated for your name and signature.
don't forget to write your name and signature in your Lotto Ticket.
3D and other Lotto Draws are subject to changes in draw schedules especially during holidays.
Lotto draw results are unpredictable, avoid persons offering 3D Lotto winning numbers in exchange for money, personal information, or cellular loads.
Observe safety protocols when playing in the PCSO Lotto outlets.